Part of the Windward islands and dealing in nutmeg, cinnamon, cocoa, and clove, beautiful Grenada is playfully named "Spice Island". Reminiscent of a Mediterranean setting, with small houses teaming up steep hills, Grenada is a rare gem in the dazzling Caribbean. Adorned with lush green vegetation, turquoise waters, and white sandy beaches that ribbon the coast, Grenada is a first-class yachting destination. Take a hike through tropical rainforests and fragrant plantations. Visit St. Margaret's falls for a dip in refreshing pools. Take a dive in calm waters and discover colorful marine life, or sunbathe on the soft powder-white sand, while sipping on a chilled coconut. Visit in August to enjoy the exuberant carnival, during which the island comes alive with dance and music, colors fill the streets, and the sounds of steel-drum bands and calypso singers echo throughout. All in all, a unique experience.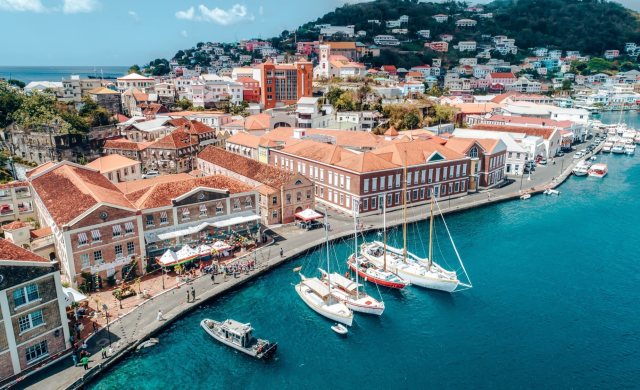 Why you should visit Grenada
Boasting balmy weather and winds consistent at 10 – 25 knots, the waters around Grenada make for smooth sailing. Visit from January to May to enjoy the dry season. With a mixture of on-land beauty and exotic marine wildlife, the likes of colorful fish, manta rays, and turtles, Grenada is a tropical paradise. Go beach hopping, mooring up wherever you see fit and enjoy a paradisical vacation. Visit Grande Anse Beach for an adrenaline pump, and go water skiing or parasailing. Lounge on
Morne Rouge for a quiet evening at a picturesque beach location, with almond trees lining the shore. If you're in the mood for an on-land adventure, explore the Seven Sister Falls, situated in the Grand Etang National Park, or pass by Belmont Estate, to see the workings of a fully functional historic plantation. Don't forget to pick up some delicious, local, creamy cocoa balls on your way out! Cap the day off with cocktails on the deck while watching the mesmerizing sunset.


Local Culture and Cuisine
Grenada was first inhabited by the indigenous people of South America and later colonized by the French. Both cultures have left a mark on the island's architecture and flavorful cuisine. Oil down, a salted meat and vegetable stew, is considered to be the island's national dish. Other local foods include dumplings, breadfruit, green banana, yam, and potatoes. On a cultural note, Grenadian tradition strongly includes storytelling, with both African and French influences, while soca, calypso, and reggae are amongst the island's chosen music genres.
Best places for wining and dining
Catering to the eclectic of taste, Bogles Round House serves a delicious a la carte menu. Based on seasonal ingredients, try the local goat's cheese, sun-blushed tomatoes, onion jam tartlet, and the fresh red lobster and jumbo shrimp, paired with a Thai lemon sauce and basmati rice. Ask your crew to book you a table, it's just on the waterfront in a charming space with a quaint garden.
Yacht Hunter Recommends - Don't miss out!
Located on the west coast of Grenada, in Molinere Bay, stands the world's first underwater sculpture park. Created by artist Jason deCaires Taylor, the exhibit includes life-sized human sculptures that adorn the vibrant sea bed. Coming to life with corals and embellished further by multicolored fish, graceful manta rays, and turtles, the underwater exhibit is a unique experience that is not to be missed.
Luxury Yacht Charter in Grenada
Don't miss out on unforgettable memories and stunning landscapes. A luxury yacht opens doors to the best of Grenada. Book a yacht with Yacht Hunter - contact us!