From the Atlantic to the Pacific, the US is a land of opportunity. And the opportunities are truly endless, if you spend your vacation on a charter yacht.
Known for its extremely diverse coastlines, rich wildlife and maritime history, the United States has been a favorite superyachts destination for decades. No matter what you prefer: the fragrant climate of Florida, the majestic glacial splendor of Alaska, or the American charm of New England — there is something for everyone.
The main USA yacht charter destinations that span a vast coastline are divided into two regions: the east and the west of the country.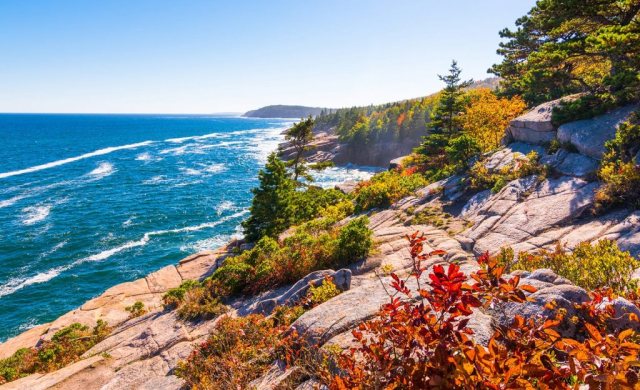 West Coast
In the west, there are wild rugged coastlines of California that stretch from San Francisco to San Diego and Baja California. Popular places include San Diego and Los Angeles as well as San Francisco with the best view of the Golden Gate Bridge from aboard yachts moored in its large harbor. To the north, you will see the Pacific Northwest region of the US, including the extremely popular San Juan Islands near the US-Canada border. This entire region is best described in terms of stunning mountain scenery, spectacular wildlife, and friendly locals. Further
north, you will experience the serene tranquility of Bay d'Espoir considered to be one of the best places for a charter cruise. You will enjoy yacht fishing, and a chef will cook your catch for dinner. Other popular places there include the idyllic Sunshine Coast and Jervis Bay with 13 marine parks offering complete privacy, majestic landscape, stunning anchorages, wonderful restaurants, and fantastic yachting opportunities. Do not miss Princess Louise Inlet and Chatterbox Falls, a must-see picturesque gorge with granite walls of cascading waterfalls.
Alaska offers a stunning contrast to other US charter destinations while maintaining its exceptional beauty and splendor. This destination will be a discovery for intrepid travelers, outdoor enthusiasts, and nature lovers. This stunning distant corner of the world is unrivaled in wildlife beauty and is undoubtedly one of the world's most intriguing yachting destinations. Chartering a yacht to Alaska is the best way to explore this land as much of Alaska's coastline is inaccessible by land.
East Coast
To the east, you can explore beautiful seascapes snorkeling near Florida's coral reefs.
Numerous islands near Florida offer comfortable temperature all year round and are known for their evergreen plains as well as sports fishing and tranquil natural beauty. These islands are also a good starting point for journeys, including the Bahamas and the Caribbean.
Located on the northeast coast of America, New England is an extremely popular destination spanning nearly 3,500 miles. The region is compact in size. A tour through New England will only take a week.
A favorite destination of presidents and poets where colorful coastal villages with charming gingerbread houses give way to long sandy beaches and remote islands alternate with vibrant towns. Amazing postcard coastal landscapes change completely every season showing a whole new side of the region, from dazzling winter slopes blanketed in snow to the purple-gold richness of fall.
With numerous fine dining restaurants, a variety of art galleries, exceptional boutiques, and a long list of diverse festivals and celebrations on the calendar, you will have a wealth of entertainment options wherever you steer your boat in New England!
Newport

Martha's Vineyard

Nantucket

Cape Cod

Maine

Newport
Newport is considered the yachting capital of North America. This is where the famous America's Cup regatta takes place.
There are a lot of things you can do ashore too — the city is frantic with cultural entertainments and events throughout the year: dive into the tunes of world-famous folk and jazz festivals in spring and take part in numerous food and wine festivals in summer. A combination of rich colonial history, world-class restaurants, and a vibrant nightlife makes Newport an integral part of the New England charter route.

Martha's Vineyard
At Martha's Vineyard, you will have incredible memories of old-fashioned towns and charming villages scattered around the island.
Although the first impression of those new to the island can be reduced to "too simple", Martha's Vineyard is considered one of the most expensive US resorts. With year-round cultural and historical events, open restaurants, galleries, and unique boutiques, there is always something to do here!

Nantucket
Despite compact size and isolated location, Nantucket is a must-see destination. The moment you set foot ashore, you will relax and become immersed in the island's peaceful pace of life before you even know it. Though only 41 km away, Nantucket makes you feel like a world away from the hectic life of big shimmering cities on the mainland.
Cape Cod
During summer months, the harbors and quays of Cape Cod are full of sailing yachts, fishing boats, and luxury superyachts. Visitors and locals head along the shore looking for places to taste fresh oysters and fried clams. Life on Cape Cod is about great food, sandy beaches, and spending time with friends and family.
If just hanging out is not enough for you, there are 83 museums and theaters on Cape Cod.

Maine
The Maine coastline is filled with rugged scenery, which gracefully curves inland to reveal hundreds of welcoming harbors, inlets, and gushing rivers. With rolling hills, heavily forested areas, lighthouses, and cliffs, the landscape is really something to admire. Maine boasts 5000 miles of coastline and more than 1000 scenic islands to explore. It's also home to over 65 historic, dramatic lighthouses which adorn its jagged coast.
Charter a yacht to enjoy and explore the waters, discover the magical nature of the mainland, and spot marine wildlife.
Yacht Hunter offers yacht charter to all destinations along the US coastline. From fast motor yachts in Florida and California to classic schooners to quietly explore New England shores; from explorers to visit Alaska to sport fishers for marlin fishing off Miami.
Choose your best option from 1,500+ motor and sailing yachts available in the catalog. Or contact us — Yacht Hunter consultants are available 24/7 by phone or via live chat.