Step into unmatched Alaska; a magical world of glittering glaciers and majestic wildlife. Spot towering totem poles amongst lush greenery and enjoy one of the best places in the world to view the dazzling northern lights. Sip on a warm cup of hot chocolate, while you marvel at the colorful, dancing lights in the crisp winter sky, enjoy the astounding silence, and spot majestic wildlife; from orcas to walruses, to bears and moose. Dine out and sample delicious, freshly caught, local delicacies. Meet the native people and be taken on a tale of authentic Alaskan tradition. Wild Alaska will offer you an unforgettable experience. Alaska is a premium location for yachting, as most of its territory can only be explored by boat.
Hop on your luxury yacht charter and prepare yourself for the exploration of a lifetime.
Reasons to visit
Visit Alaska if you are looking for a one in a lifetime snowy adventure. Home to towering snow – caped mountains, gardens of glittering glaciers, majestic wildlife and untouched nature, Alaska will be an astonishing experience. Let your super yacht charter in Alaska take you to the most breath-taking places.Sail from location to location, without parting with your luxe accommodation. Be taken aback by a huge variety of wildlife, including orcas, whales, walrus, wolves, bears,
majestic bald eagles, moose, and caribou. Travel on your own time, and unpack only once. A superyacht charter can provide a tranquil and stress-free environment that cannot be found on land. Explore remote locations without missing out on your luxurious amenities, such as a private SPA, hot swimming pool, indoor cinema, gym and warm fireplace. A luxury superyacht is like vacationing at the most luxurious hotel, but with one main difference – you have the place all to yourself.





Local culture and cuisine
Experiencing Alaska's native culture is high on many people's lists and with good reason.
With over 20 distinct cultures and 300 different dialects, Alaska is embellished with one-of-a-kind diversity. The native people of Alaska usually live in small villages scattered along the coast. Visit when you step ashore and discover the captivating native tradition. Weather-wise, July and August are the best months to visit Alaska. If you're visiting in summer, make sure to attend the Sunsational summer solstice celebration. It takes place in Alaska's biggest city, Anchorage, on the longest day of the year which has 22 hours of functional daylight. Featuring big celebrations, outdoor fun, hikes, running, fishing and concerts, Sunsational is sure to satisfy even the most demanding travelers.
On a culinary note, don't forget to enjoy freshly caught delicacies. Ask your onboard chef to prepare some salmon, the native fish of Alaska. It is enjoyed fresh, smoked, baked, or perfectly paired with cream cheese on a morning bagel.
Alaska is also known for its berries. A berry cobbler is one of the best ways to savor the fruit. Cut into its crispy, buttery rich biscuit topping, and enjoy a mouthful of juicy, sweet berry goodness.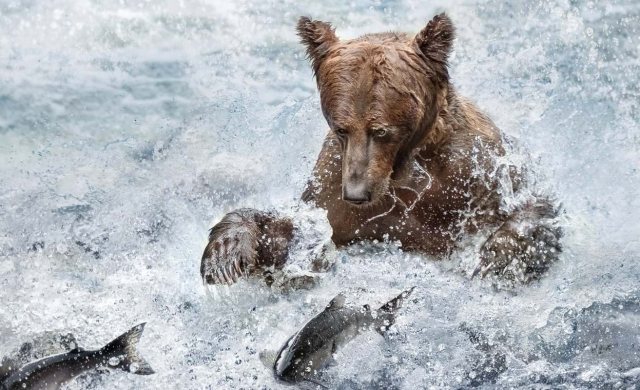 Best spots for wining and dining
The Chart Room restaurant sits quietly by the bay of the Homer ferry terminal. This easy-to-access restaurant boasts favorite Alaskan flavors and spectacular views from its wide-framed windows. Made with local ingredients and paired with vegetables sourced from Homer's farms, sample the oysters, clam chowder, king crab legs, and fish and chips. Lookout for the Chart Room specialty: "Halibut Ilamina"; seared halibut topped with 2 ounces of crab and artichoke dip with saffron risotto and lemon cream sauce.
Yacht Hunter recommends
Chena hot springs sit amongst soft, white snow and tall, green trees, in a serene location just 60 miles outside of Fairbanks. Away from the crowd, Chena hot springs is a peaceful spot for some silent relaxation. Soak in the steaming hot water, breathe in the crisp winter air and enjoy the stunning view of the magnificent Aurora Borealis. Apart from being a special location to view the northern lights, Chena hot springs is also adjacent to the Aurora Ice Museum, created by World Ice Art Champions, Steve and Heather Brice. Don't miss it.
Resurrection Bay

Fairbanks

Resurrection Bay
Resurrection Bay is situated south of Seward, toward the Gulf of Alaska and the Kenai Fjords National Park. It is famed to be one of the most reliable places to view marine wildlife in the world. Seeing a colossal humpback whale breach the water, or an orca leap in a spectacular, wave-crashing dive, can be one of the most breath-taking moments of your Alaskan charter journey.

Fairbanks
Touted as the perfect spot to enjoy the dazzling northern lights, Fairbanks should not be overlooked. You can spot the northern lights throughout all four seasons of the year, but the best time to view them is between August and April, when the night sky is at its clearest and darkest. Towns and cities produce ambient light that interferes with aurora viewing, so it's best to view the Aurora Borealis from the outskirts of a town. Otherwise, steer your luxury yacht to a remote location, away from cities and lights, and enjoy the bucket-list spectacle unfold in the dark northern sky.
Charter yacht in Alaska
Don't miss out on unforgettable memories and stunning landscapes. A luxury yacht opens doors to the best of Alaska. Get yours today. Book a yacht with Yacht Hunter - contact us!