Boasting 4964 kilometers of beautiful coastline, a luxury yacht charter ****in Spain is an experience in itself. Lounge on pristine golden beaches ribboning the coast and dive into the azure crystal clear waters full of darting silverfish. Explore the bustling cities with cafes overflowing on cobblestones or the quiet villages where locals live a traditional and unhurried lifestyle. Visit unforgettable Marbella, cosmopolitan Barcelona, and charming Valencia on Spain's Mediterranean coast. Home of architectural miracles curated by Gaudi, such as the Sagrada Familia, Barcelona is a city worth the buzz. Close to the coast, the Picasso museum is also worth a visit, while the city boasts several other museums which are home to various iconic pieces. After a day of exploration take repose at the Barcelona Royal Yacht Club and refill your batteries in style. Moor up in Marbella for water sports in abundance, fishing, and dolphin-watching, and visit Terranova beach in Valencia for a laid-back day in the sun. Just off the coast, the Balearic islands beg to be explored and are a hot spot for superyachts. Close to one another, hop from stunning Mallorca to Ibiza, Formentera, and Menorca. Each island holds a culture of its own and a multitude of unforgettable attractions that are sure to leave a lasting impression.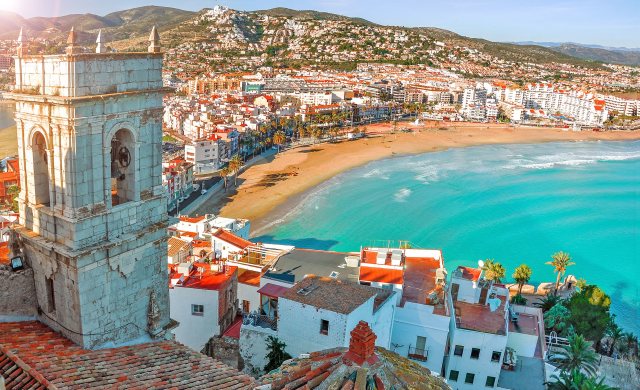 Reasons to visit Spain
Sun-kissed days and balmy starry nights await you in delightful Spain. Known for warm weather that seeps into the night, the best time to visit is during the summer, from May to September. Enjoy the stunning beach lifestyle, snack on delicious Mediterranean food, go shopping for exclusive designer clothes, marvel at the wealth of museums, pause at
the stunning architecture, and party throughout the night. Apart from Spain's coastal towns, the Balearic Islands of Mallorca, Ibiza, Formentera, and Menorca are essential stops on your luxury yacht charter. A heaven of breathtaking secluded beaches, charming local markets, and vibrant nightlife, these islands will find their way into your heart.


Local Culture and Cuisine
Spanish culture is intertwined with the Catholic Church, which played a huge part in its formation. While its art, architecture, cuisine, and music have been shaped by its many foreign invaders. Spanish cuisine is rooted in Mediterranean staples and has a large variety of seafood. Local dishes like paella are sought out internationally and are a must-try during your visit. Ask your onboard chef to prepare you one and pair it with some local robust wine alfresco on the deck for a delightful afternoon meal.
Best places for wining and dining
Right by the seaside, in a sun-lit modern space, Enoteca Paco Perez serves a well-thought-out degustation menu. We singled out the refreshing green peas on the dark sauce, paired with caviar, and smoked butter, and the delicious cuttlefish showered with truffle. Ask the crew to book you a table.
Yacht Hunter Recommends - Don't miss out!
The Balearic Islands are a must-visit for your luxury yacht charter in Spain. Offering the best out of two worlds; visit Menorca for stunning nature and postcard-perfect beaches and Ibiza for its party scene and local hippy markets. We recommend Cala Mitjaneta in Menorca, for its stunning natural beauty that lends itself to swimming, snorkeling, and sunbathing along turquoise crystalline waters and powder-soft sands. When the day is over, steer your yacht to Ibiza which is world-renowned as the party playground of the Mediterranean, and get ready to dance into the starry night.
Mallorca

Ibiza

Formentera

Menorca

Mallorca
Mallorca the largest island in the archipelago has preserved its original unspoiled charm, with wrought iron balconies and attractive old squares. Its capital, Palma-de-Mallorca, often called "Little Barcelona," is a stop you just can't miss. Mallorca is very popular for a number of reasons: its magnificent shoreline, luxurious beach resorts, hidden coves, unique underwater wildlife, and amazing cuisine.
Ibiza
Despite often being called a party island, Ibiza does offer more tranquil and settled relaxation. In recent years, Ibiza has become a popular destination for family holidays. Ibiza offers lots of options for alternative relaxation for people tired of the crowds and noisy parties: the island is full of impressive temples, quiet villages, mysterious caverns, and brilliant beaches.

Formentera
Formentera is the smallest of the archipelago's four islands, lying to the south of Ibiza. The island's low-level energy attracts those tired of Ibiza's hedonistic madness. In recent years, Formentera has been recognized as a place with a unique atmosphere, simple but elegant, bohemian but with a touch of delicacy. If you charter a yacht to Formentera, you will find yourself in a paradise where the food is exceptional but you never have to wait for an available table, where the rural houses are extremely stylish, and the sea seems bluer than anywhere else in the Mediterranean.

Menorca
Tranquil and lazy Menorca has more beaches than Mallorca and Ibiza. Here you will also find isolated bays and clear water. Menorca is also notable for the largest concentration of historic monuments. The calm atmosphere and delicious cuisine guarantee an incredible level of relaxation and satisfaction during your stay and the rest of your life. Don't miss your chance to walk under its fig and olive trees.
Luxury Yacht Charter in Spain
Ready for the experience of a lifetime? Charter a luxury yacht in Spain to make your dream vacation come true! Please contact us
YACHTS AVAILABLE IN THIS REGION