Visit Seychelles and be transported to a tropical paradise on earth. With postcard-perfect crystal sapphire waters, striking beaches with pearly white sand, and sweeping palm trees lining the shores, this destination is sure to cast a spell on you. Seychelles is comprised of 115 islands, which are scattered across the Indian Ocean. They are also home to two UNESCO World Heritage Sites: Aldabra, the world's second-largest raised coral reef atoll, and Vallée de Mai on Praslin. Housing innumerable, vivid coral reefs under their waters and lush vegetation, with cascading waterfalls ashore, the beautiful islands just beg to be explored. Say hello to the giant Aldabra tortoises, walk through vanilla-scented plantations and swim with tropical fish and silvertip sharks. The islands are at a relatively short distance from one another, allowing visitors to hop from one heavenly oasis to the next on their luxury yacht charter.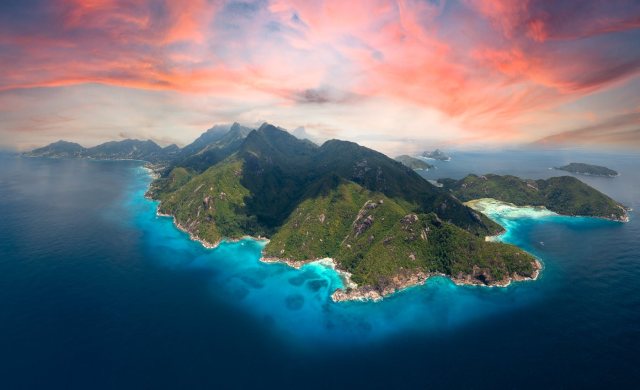 Reasons to visit
Tropical Seychelles lies 1,000 miles off the coast of Africa. The main islands are Mahé, Praslin, and La Digue. Each island boasts stunning landscapes, vivid green vegetation, and dreamlike sandy white beaches. The sea, truly brimming with colorful life, invites visitors to put on their scuba gear or snorkel and explore. With deep and shallow dive sites, Seychelles accommodates divers of all abilities. Marvel at sharks and turtles, which dart between the reefs to produce an underwater spectacle, unlike any
you've ever seen before. With temperatures ranging from 26 – 32 degrees, Seychelles is a year-round destination. It is advisable to visit between April and May, or October and November, when the wind is at its calmest. Make sure to visit Anse Source d'Argent, one of the most photographed beaches in the world. Enjoy a new island every day, walk along pristine beaches, go for adventurous hikes in the lush green mountains, and wind down at the end of the day with a relaxing massage aboard your private yacht.

Local Culture and Cuisine
Seychelles is a mixture of European, British, African, Indian, and Moorish cultures. This multi-ethnic mixture is reflected in their art, music, dances, and theater. The local cuisine is a fusion of cultures, blending the very best of African, Asian, and European influences. From freshly caught fish to locally grown fruit, and from spicy coconut curries to sweet fried bananas, there's something for everyone. Visit one of the colorful markets selling exotic spices and fresh fruit - or ask the crew to pick up some fruit from the market for a scrumptious breakfast onboard. Don't forget to try the legendary Coco de Mer coconut, which falls from a rare species of a palm tree, native to Seychelles.
Best places for wining & dining
Visit the romantic Eden restaurant on Mahe Island - easily accessible from your yacht. Amidst a picturesque setting right on the beach, Eden offers a traditional Creole fine dining experience. Enjoy a selection of fresh seafood and tender meats. Sample fresh sesame yellow fish tuna, and resplendent Grilled Rock Lobster Thermidor. Ask your captain to book a table.
Cap the night off by enjoying a local, cold Seybreu beer under the stars, in the comfort of your own yacht.
Yacht Hunter Recommends - Don't miss!
On one of Seychelle's most distant islands, sits the world's second-largest atoll, the Aldabra Atoll. The atoll is located over 1000 km southwest of the main island of Mahé and is a UNESCO World Heritage Site. With extremely diverse marine life, this diving site has been characterized as a "wonder of the world", by explorer Sir David Attenborough. Aldabra is also home to a number of endangered species, including the Aldabra giant tortoise and the gentle Dugong.
Take a serene deep dive to swim with the rare marine life, or venture ashore to pet the peaceful Aldabra giant tortoises. Either way, this will be a tropical experience you won't soon forget.
Seychelles Private Yacht Charter
Ready for the experience of a lifetime? Сharter a yacht today with yachthunter.com! Please contact us