From excitement to sheer tranquility, a Bahama yacht charter has it all. With balmy weather year round, and calm, shallow waters, the Bahamas are an enticing yachting destination for the entire family. Located in the Atlantic Ocean and comprised of more than 3000 islands and cays the Bahamas have a lot to offer. Dense in palm trees and highlighted by azure waters, Nassau, the capital of tropical Bahamas, is the ultimate yachting destination. With luxurious 5-star resorts peppering its coast, pristine waters which gracefully lend themselves to underwater exploration, and an array of upscale boutiques, fancy restaurants, and bars, Nassau will give a luxurious flare to any vacation. Don't omit to visit Abacos, a stunning archipelago reaching over 120 miles, famed to be a boating, fishing, and sailing paradise. Step ashore to play some golf, explore nostalgic colonial towns and luxuriate in countless upscale hotels, restaurants, and bars.
Reasons to visit Nassau & Abacos
The balmy weather of the Bahamas beckons travelers from around the globe. Enjoy private beaches and secluded coves, with powder-white sand, and idly swaying palm trees. Dive deep in azure waters to discover fantastic shipwrecks and fascinating marine wildlife. With diving sites for advanced divers as well as beginners, you will be able to spot dolphins, colorful tropical fish, manta rays, sharks, and turtles. Visit the bustling capital of the Bahamas, Nassau, situated in New Providence. For something different, swing by the Pirates of Nassau Museum and the local straw market, which is
home to a vast array of hats, bags, local crafts, jewelry, and souvenirs. Visit charming Abacos to enjoy snorkeling at private cays and sunbathing on secluded beaches. Travel to No Name Cay for an unusual spectacle that is sure to make you giggle, swimming pigs that can be fed in the water. Enjoy some fishing from the comfort of your deck. Reel in the catch of the day and delight in a fresh seafood meal, made by the onboard chef. Cap the day off with some bubbly, enjoyed while taking a soak in the onboard jacuzzi. A luxury yacht charter in the Bahamas is sure to make you kick back and relax.

Local Culture and Cuisine
Bahamian culture is a mixture of African, British, and American cultures. Some locals practice a form of folk magic and craft items made of palm fonds, like hats and baskets. The cuisine is characterized by seafood such as fish, shellfish, lobster, crab, and conch, as well as tropical fruits, rice, peas, and pork, flavored with spices. Ask your crew to whip you up the all-time favorite Bahama cocktail Goombay Smash, which is prepared with fresh pineapple juice and coconut-flavored rum. Enjoy alfresco on the deck, while you marvel at the spectacular warm-colored sunset over the calm horizon.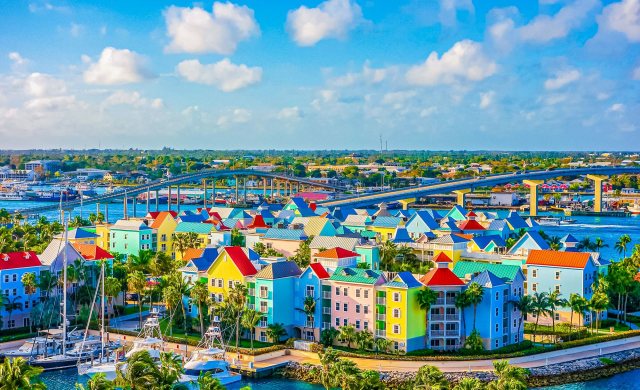 Best Places for Wining and Dining
Situated a few steps from the waterfront of Nassau, elegantly sits Sapodilla restaurant. With an upscale island vibe permeating the grounds, Sapodilla serves a creamy conch chowder, liaised with cream and topped with curried oil, and a crisp fried snapper filet, paired with citrus tomato jam. Ask the crew to book you a table so you don't miss out.
Yacht Hunter recommends - Don't miss out!
The Elbow Reef Lighthouse on Elbow Cay, in Albacos, is not to be missed. It remains the only active and manned light station in the world that has not yet been electrified. Towering at 89 feet you can climb to the top and enjoy a splendid view, not to mention, decide on the direction of your onward journey.
Luxury Yacht Charter in Nassau & Abacos
Don't miss out on unforgettable memories and stunning landscapes. A luxury yacht opens doors to the best of Nassau & Abacos. Book a yacht with Yacht Hunter - contact us!