Splendid golden sands, paired with calm turquoise waters, corals teeming with marine wildlife, plunging mountain canyons, sweeping desert dunes, and fascinating archaeological sites characterize a luxury yacht charter in the infamous Red Sea. Surrounded by Saudi Arabia, Yemen, Egypt, Sudan, Eritrea, and Djibouti, a charter in this region provides ample choices for exploration. With 90 untouched islands to traverse, you can hop from one private beach to the next, awe-struck by the beauty of this oasis. Surrounded by the world's fourth-largest barrier reef which spans over 28,000 square kilometers, it's no surprise that the Red Sea boasts such a rich and diverse marine ecosystem. More than 1200 species of fish can be found in its waters, and around 10% of these are unique to the region. A majestic ode to solitude and seclusion, a luxury yacht charter in the Red Sea can provide you with a one-of-a-kind experience of rejuvenating silence and relaxation.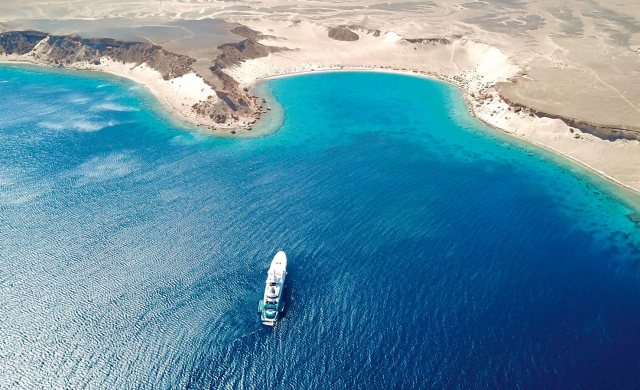 Reasons to visit Red Sea
Visit one of nature's last frontiers, with hauntingly beautiful vistas and world-class diving, where you can spot beautiful coral formations vibrant with foals of tropical fish, sharks, eels, and turtles. Take a dip in crystal clear turquoise waters which refresh and explore secluded, uninhabited islands that charm. Try diving in the Ras Mohammed National Park or the 'Aquarium', part of the Shaab
Abu Ramada reef, for an exquisite, once-in-a-lifetime experience. Visit between October and April, when the weather is warm but not uncomfortably hot. You can tour the many shops, souks, and restaurants and meander down dusty roads lined with crumbling buildings when you step ashore. Enjoy the exclusive nightlife of Zamalek, in Egypt, and try camel riding or dune buggy in the Sahara for an unforgettable experience.



Local Culture and Cuisine
Surrounded by Saudi Arabia, Yemen, Egypt, Sudan, Eritrea, and Djibouti, chartering a yacht in this region means you have the opportunity to experience distinctively different cultures and cuisines. Steer your yacht to any one of these fabulous destinations to explore. A must-visit on our list, Egypt is recognized as a cultural trendsetter in the Arabic-speaking world. Try a selection of vegetable-based Egyptian dishes and grilled meat with a tangy salsa or a fish delicacy with rice courtesy of Saudi Arabia. Only one thing is certain; with such variety, there's something for everyone.
Best places for wining and dining
The Smokery El Gouna Yacht Club is a stylish restaurant situated on the waterfront of Hurghada, an up-and-coming yachting destination. Serving a selection of tasty dishes, like the chicken truffle pappardelle and the resplendent lobster linguini, you are sure to be satisfied by the delicious a la carte menu. Ask the crew to book you a table or if you don't feel like dining out, spend the day fishing and ask the onboard chef to make a meal out of the catch of the day.
Yacht Hunter Recommends - Don't miss out!
A visit to the Red Sea could not be complete without a pampering spa session. Sharm El Sheikh is famous for its world-class spa facilities and can provide you with the entire Red Sea spa treatment. Opt for a full day of relaxation so you can emerge refreshed and rejuvenated. Cap the day off by watching the sunset while lounging on the deck of your luxury charter yacht, cocktail in hand.
Red Sea Luxury Yacht Charter
Ready for the experience of a lifetime? Charter a luxury yacht in the Red Sea to make your dream vacation come true! Please contact us