BACK
10 Mar 2023
Yacht charter in Croatia
If you're seeking a sublime escape aboard a luxurious yacht, look no further than Croatia. Nestled between Slovenia and Bosnia & Herzegovina, this enchanting coastal country boasts a plethora of islands to captivate you and your esteemed guests throughout your unforgettable charter.
We're going to go through some of the best places to visit during your luxury yacht charter in Croatia.
Dubrovnik
Find out more about Croatia
Embark on a journey through time by exploring the mesmerizing city of Dubrovnik. Wander through its enchanting Old Town, meandering through narrow streets dotted with captivating boutiques and historical landmarks.
Dubrovnik's allure extends beyond its own borders, having served as the stunning backdrop for some of the most memorable scenes in the hit television series Game of Thrones. Take a guided tour through filming locations, including the awe-inspiring PIle Bay, which served as the setting for the iconic Battle of Blackwater.
As you stroll along the city's 16th-century medieval stone walls, marvel at the breathtaking panoramic views of the city and the glittering coastline. This exhilarating walk takes approximately two hours and is a must-do for anyone visiting Dubrovnik.
To indulge in the city's culinary delights, head over to the Panorama restaurant, where you can savor authentic Dubrovnik cuisine while enjoying a bird's eye view of the city. Delight in an array of delectable dishes, including cheese with olives, Chicken Rustico, and Dubrovnik Cream Caramel.
The Blue Cave
As you set sail on your luxury yacht charter off the coast of Vis, make a beeline for the mystical Blue Cave on Bisevo Island. This natural wonder is nothing short of enchanting, igniting your imagination with its dazzling blue lights and luminescent allure.
The cave's ethereal beauty is thanks to a unique phenomenon that occurs when sunlight reflects off the ocean bed through an opening in the cave's roof. The resulting interplay of intense colors, including shimmering blues and silvers, is nothing short of awe-inspiring, making the Blue Cave a must-see attraction on your Croatian yacht charter.
Drop anchor and immerse yourself in the cave's mesmerizing ambiance, exploring its mystical beauty up close. As you soak in the surreal surroundings, you'll realize that the Blue Cave is indeed as magical as its name suggests, leaving you with unforgettable memories of your yacht charter.
Stiniva Bay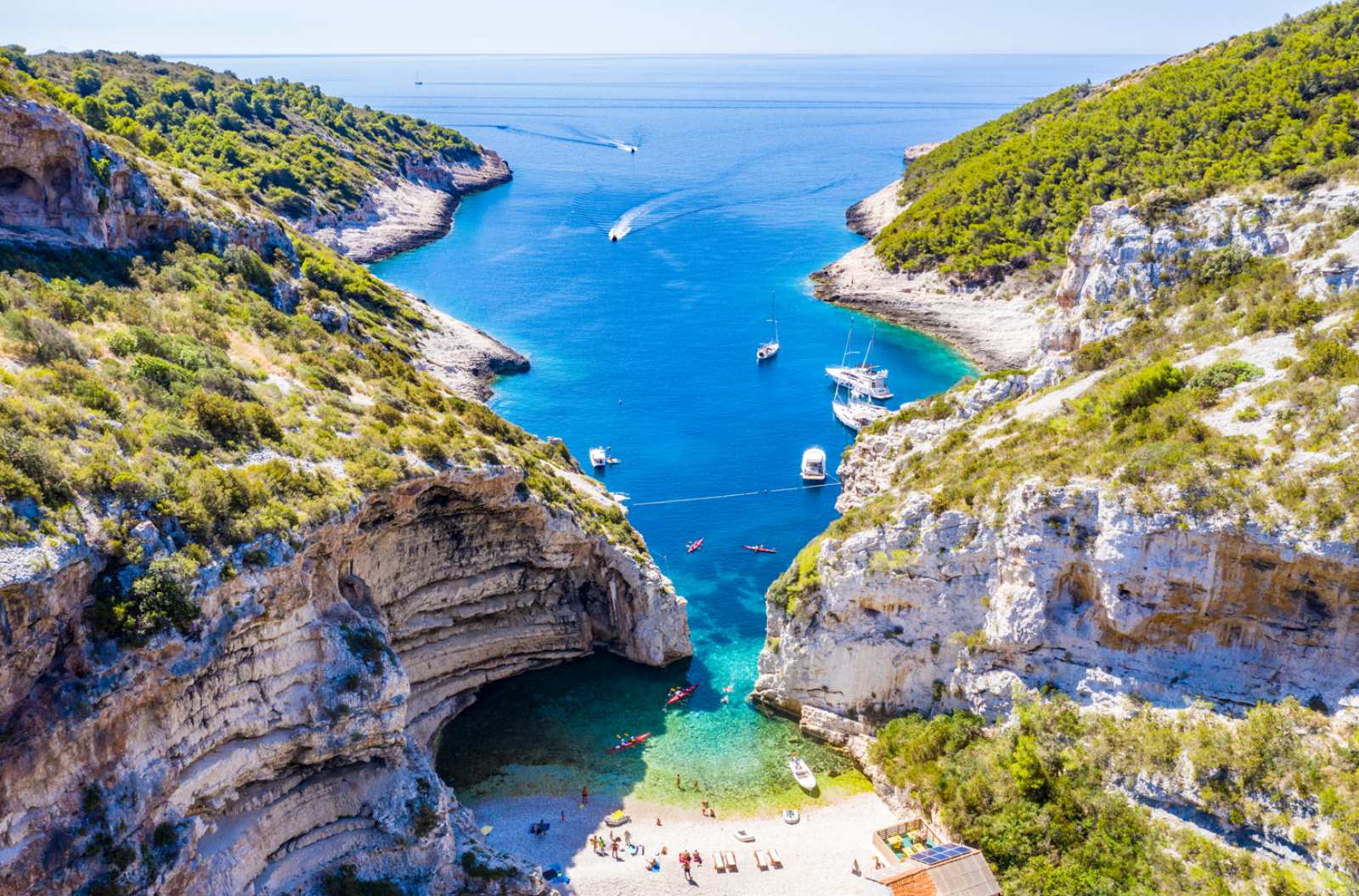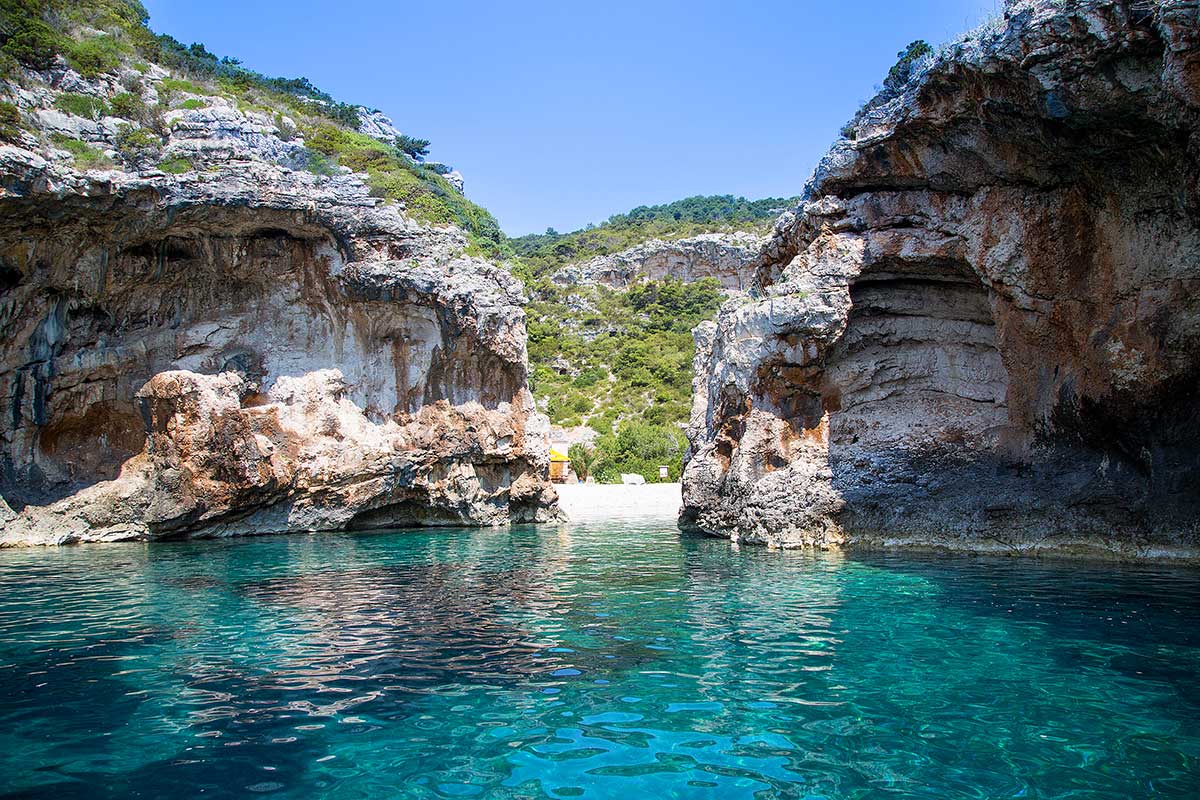 If you are looking for the ultimate beach experience while planning a luxury yacht charter in Croatia. Look no further than Stiniva Beach, a top pick among yachters. Located on Vis Island, this gorgeous hot spot boasts turquoise waters and a warm pebble beach that will take your breath away.
But that's not all - Stiniva Beach is also a prime location for diving and snorkeling. Your crew can kit you out and guide you to discover the stunning sea life that surrounds the bay. And with so much to see and do in the area, it's no wonder that boat tours are a popular activity here. Don't miss out on the chance to explore this remarkable destination during your yacht charter in Croatia.
Brac
The benefits of booking yacht in advance
Brac Island, located in the stunning Adriatic Sea, is a must-visit destination for those seeking a unique charter experience. The island's white limestone formations, which have been actively quarried for centuries, are a sight to behold. With a history dating back to the Bronze and Iron Ages, as well as its inclusion in the Roman Empire, Brac Island is steeped in rich culture and heritage.
There is no shortage of things to do on Brac Island, making it a perfect stop for your charter itinerary. One of the island's most popular attractions is the renowned Golden Horn Beach. This 500m stretch of shingle coastline is a photographer's dream and an ideal location for sunbathing, swimming, and watersports. However, it's worth noting that Golden Horn Beach can get quite crowded during the summer months due to its immense popularity.
A Luxury Yacht Holiday
Contact us - we will help you tailor your holiday to your requirements, helping you to make the most of your holiday of a lifetime
A yacht charter holiday in Croatia is the epitome of luxury travel. With a wealth of destinations waiting to be explored, it's the ultimate way to experience the beauty and charm of this stunning country. If you're planning a superyacht charter in Croatia, make sure to prioritize the following destinations for an unforgettable experience. Get ready to create lasting memories in one of the most breathtaking parts of the world.