BACK
6 Mar 2023
Superyacht's Key Features - part I
Superyachts offer a luxurious escape from the humdrum of everyday life, catering to diverse preferences with their varying speeds, sizes, and designs. From the wind-powered sailing yachts that challenge the might of the open seas to the sleek and sophisticated motor yachts that glide across the water with effortless grace, there is no shortage of options for the discerning traveler. Accommodation options, too, are plenty, with the number of cabins and guests that can be accommodated varying from one vessel to another.
However, choosing the perfect superyacht that meets your needs is just the beginning of your adventure. To truly elevate your experience, it is important to select a vessel that comes equipped with the features and facilities that will make your superyacht holiday unforgettable. In this regard, we present to you the top three features that guests can enjoy on a superyacht.
Jacuzzi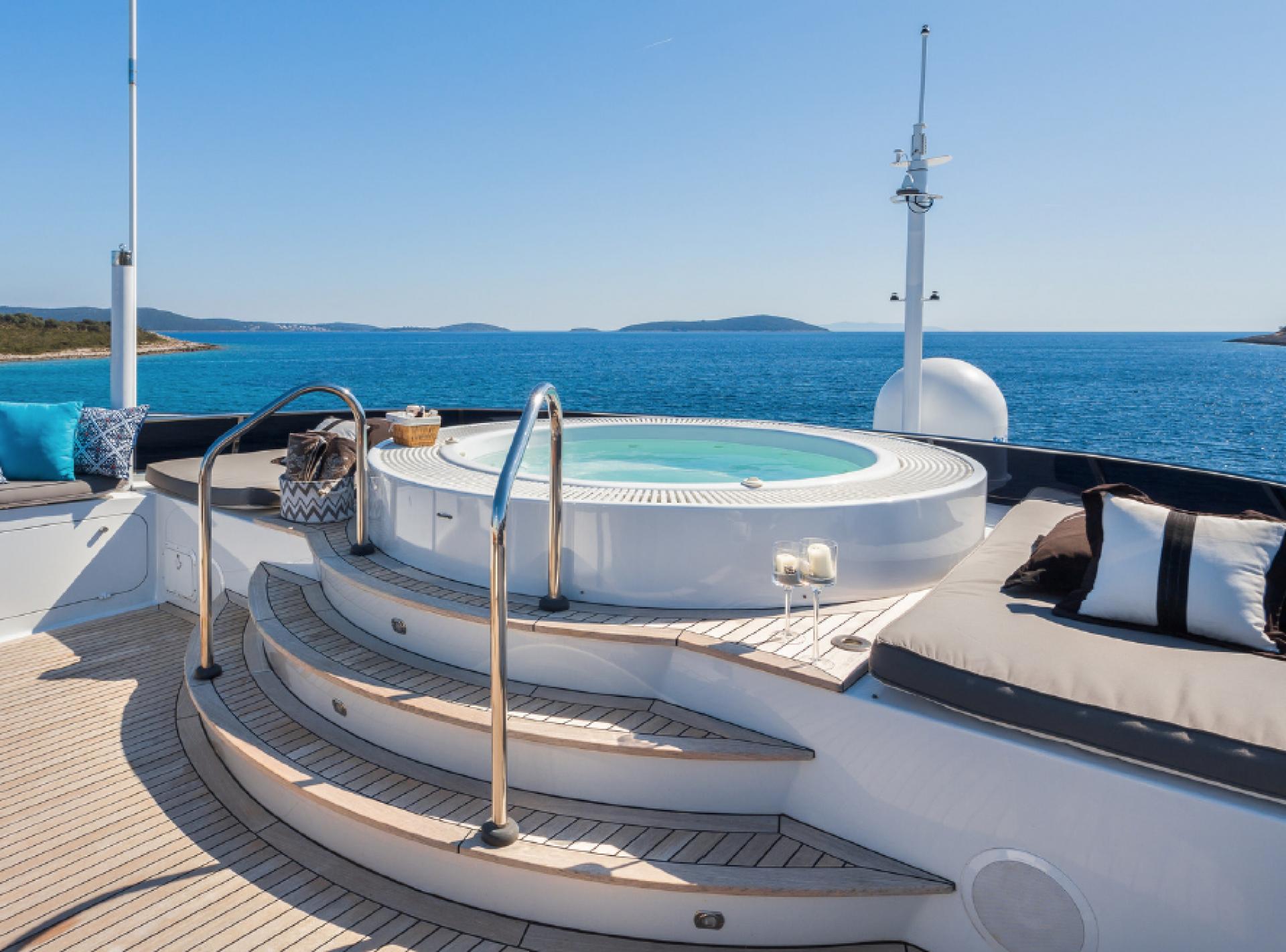 Check yachts with Jacuzzi:
IRISHA
51m./167′4″
10 Guests 5 Cabins
From €280,000 pw
JESMA II
40m./131′3″
12 Guests 5 Cabins
From €130,000 pw
BACCARAT
30m./97′1″
10 Guests 5 Cabins
From €90,000 pw
MAJESTIC MOMENTS
27m./88′7″
10 Guests 5 Cabins
From €75,000 pw
It is a rare sight to behold a lavish yacht that doesn't boast the luxury of a Jacuzzi or two. These opulent amenities may even be dubbed as "hot tubs" or "whirlpool spas", yet their fundamental purpose remains the same: to provide a serene sanctuary of effervescent warmth to forget the hustle and bustle of their onshore lives.
A Jacuzzi onboard a superyacht is typically located on the deck, allowing guests to enjoy breathtaking views while relaxing in the hot tub. The Jacuzzi is often surrounded by sun loungers, providing the perfect spot to soak up the sun while enjoying a refreshing drink.
While a Jacuzzi is a common feature on most superyachts, the design and size can vary greatly. Some yachts offer small, intimate Jacuzzis, perfect for a romantic soak with your partner, while others have larger hot tubs that can accommodate groups of friends or family.
One of the advantages of having a Jacuzzi on board is the ability to enjoy it anytime you want, whether it's during the day or under the stars at night. It's the ultimate way to unwind and relax after a long day of exploring or water sports.
In addition to the relaxation benefits, a Jacuzzi on board a superyacht can also be a great social space. It's the perfect place to gather with friends and family, sip cocktails, and enjoy each other's company while admiring the stunning ocean views. Overall, a Jacuzzi on board a superyacht is an excellent addition to any luxury charter experience. It offers the perfect combination of relaxation, socializing, and indulgence.
Gyms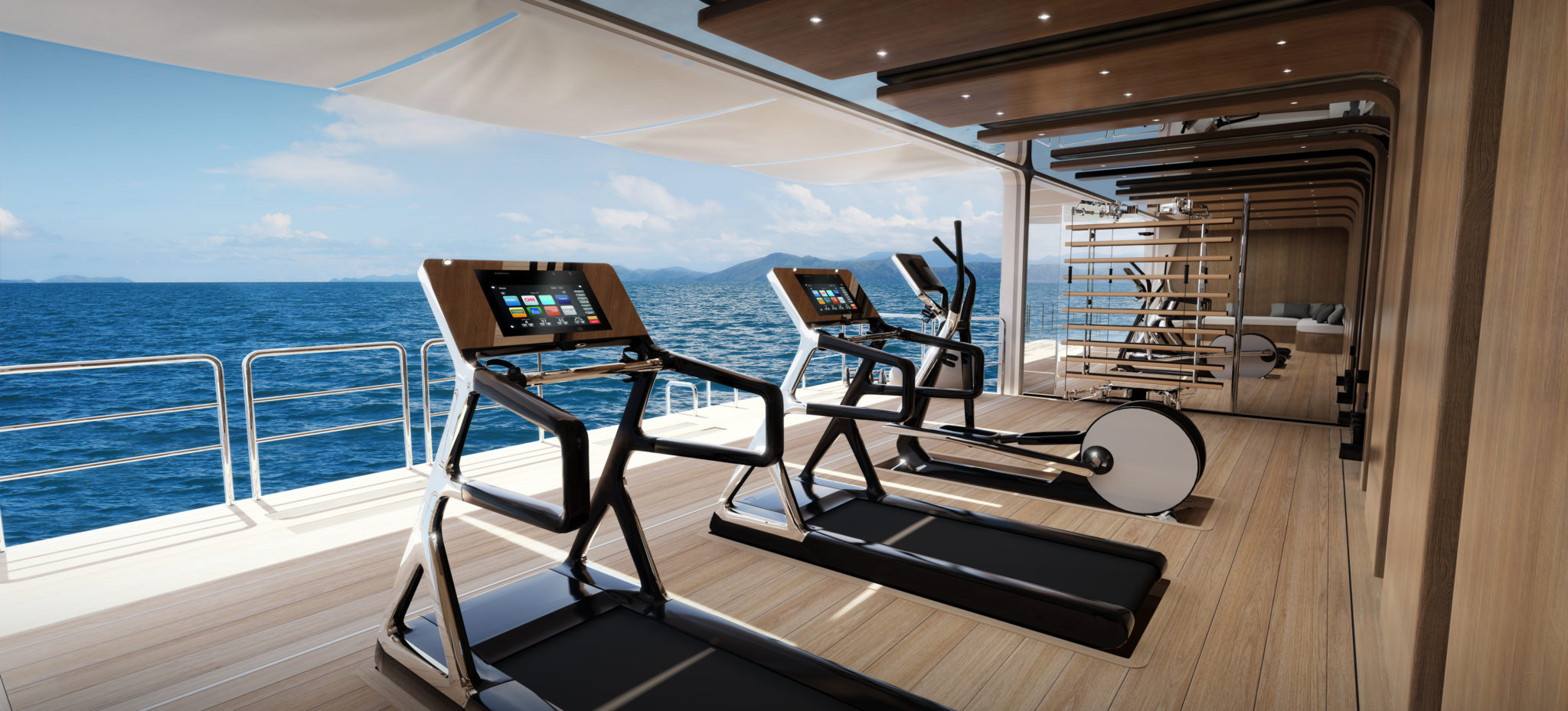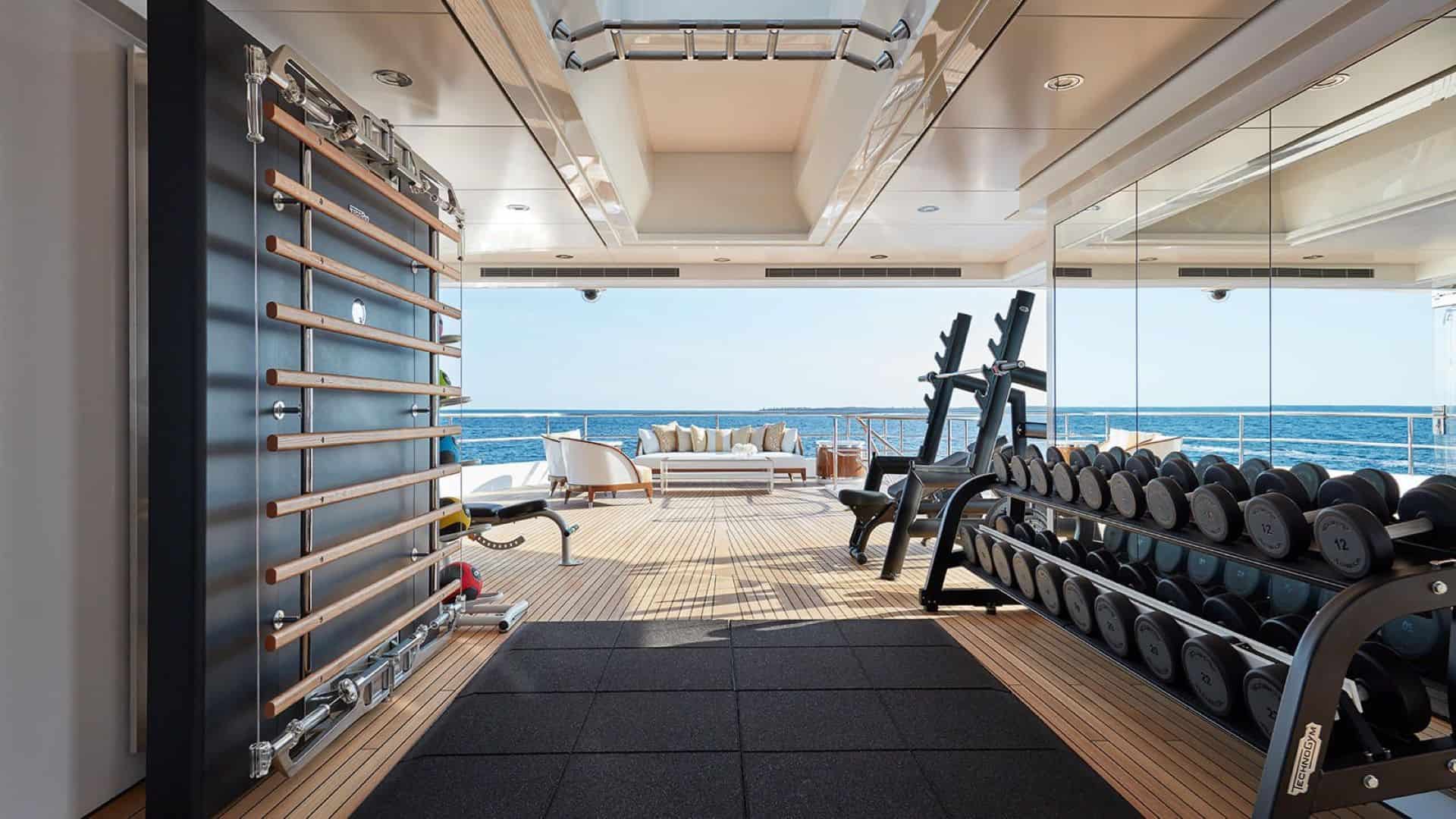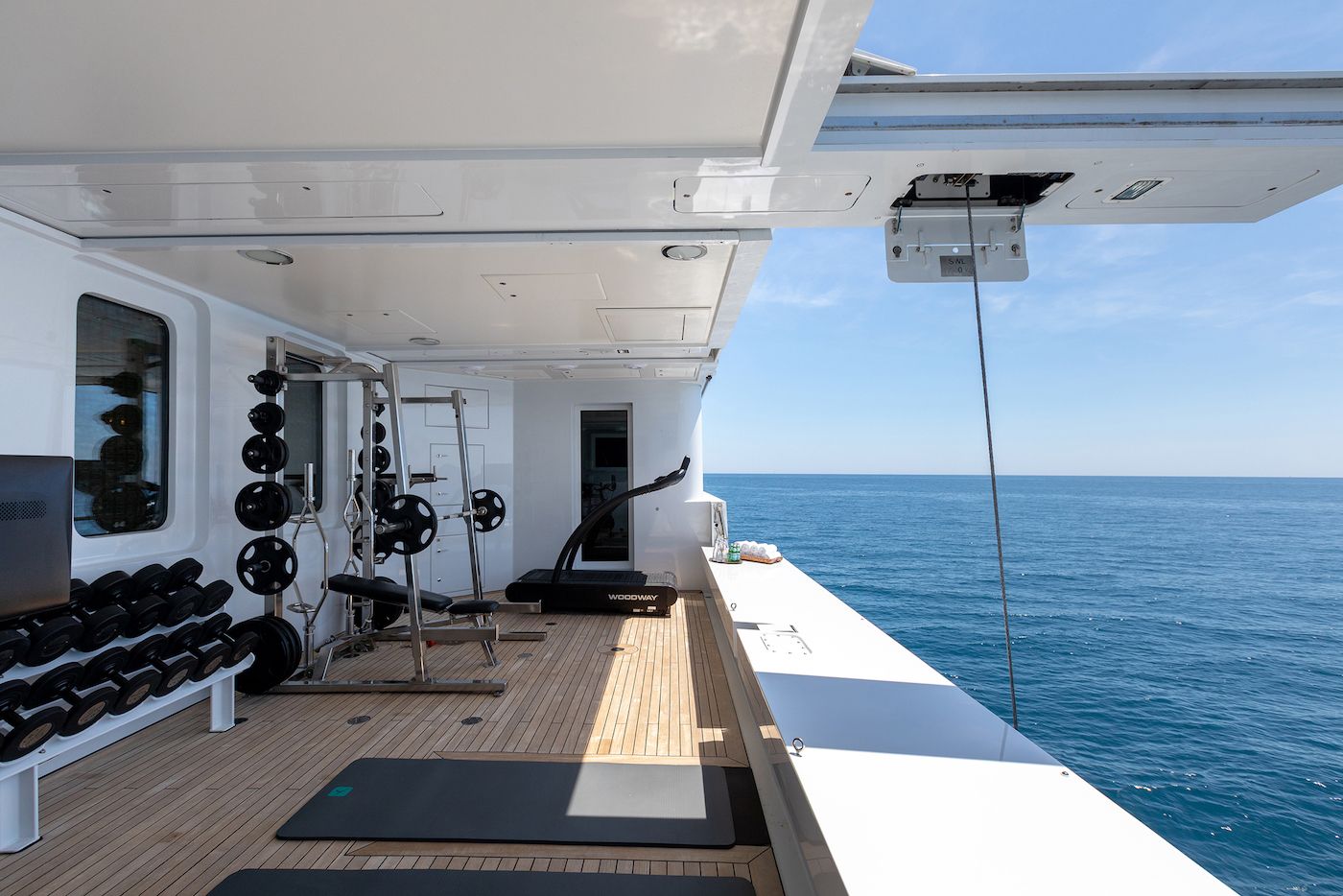 Check yachts with GYMs:
LADY MRD
42m./137′7″
12 Guests 5 Cabins
From €186,000 pw
ENTERPRISE
38m./125′0″
10 Guests 5 Cabins
From €196,000 pw
PERLE BLEUE
38m./124′8″
12 Guests 5 Cabins
From €135,000 pw
APMONIA
37m./121′5″
8 Guests 4 Cabins
From €91,000 pw
Continuing our exploration of the quintessential features of superyachts, we come to the inclusion of state-of-the-art gyms, which epitomize a dedication to holistic health and wellness. Superyachts excel in this aspect, providing a myriad of exercise equipment. Guests are privileged to relish in the personalized attention of trainers and experts, availing themselves of individualized training sessions that cater to their unique fitness goals and preferences. Here are some of the benefits of chartering a yacht with a gym onboard:
Convenience: Having a gym on your yacht means you don't have to leave the comfort of your vessel to exercise. This is particularly advantageous when you're sailing in remote areas where there are no fitness facilities nearby. You can work out whenever you like, without worrying about gym opening hours, overcrowding or equipment availability.
Privacy: Another significant benefit of chartering a yacht with a gym onboard your yacht is the privacy it offers. You can exercise in a comfortable and intimate setting, away from the prying eyes of others.
Scenic Views: One of the best things about having a gym onboard a yacht is the stunning views you get while you exercise. You can enjoy breathtaking scenery, whether you're anchored in a secluded cove or cruising along a coastline. This makes your workout routine much more enjoyable and inspiring, as you get to immerse yourself in the beauty of your surroundings.
Health and Well-being: Regular exercise is essential for maintaining good physical and mental health, and it can also help to alleviate stress and boost mood.
Cinema
Check yachts with cinemas:
MALTESE FALCON
88m./288′9″
12 Guests 6 Cabins
From €460,000 pw
SIROCCO
47m./154′2″
12 Guests 6 Cabins
From €180,000 pw
JAAN
42m./137′12″
12 Guests 6 Cabins
From €125,000 pw
SEVEN S
30m./97′5″
12 Guests 5 Cabins
From €52,000 pw
The final superyacht's common key feature is a cinema. These can be indoors or on deck, depending on your chosen superyacht. A TV is great, but a cinema provides an even better experience.
Chartering a yacht with a cinema is the ultimate way to elevate your luxury experience on the high seas. Whether it's a romantic night in with your significant other or a family movie night under the stars, the cinema on board a superyacht offers the perfect setting for a cozy night in. The options for movie selection are endless, and the experience of watching a film while sailing on the open ocean adds an extra layer of magic to an already incredible adventure.
The Maltese Falcon is famous for its on-deck cinema. It is a truly breathtaking sight to behold. The ingeniously-designed cinema uses the lowest sail as a huge projection screen. This allows for an immersive al-fresco viewing experience like no other. You can even relax in the jacuzzi while watching your chosen film under the stars.
Wrapping Up
While luxurious amenities such as cinemas, jacuzzis, and gyms are amongst the most common features of superyachts, there are also many other extraordinary features that can be found onboard. From helicopter landing pads to underwater lounges, the possibilities are endless. Therefore, it is essential to take the time to explore a wide range of superyachts before selecting the one to charter. By doing so, you can ensure that you find the perfect yacht that caters to your unique desires and preferences.
Contact us - we will help you tailor your holiday to your requirements, helping you to make the most of your holiday of a lifetime