The Galapagos is a small cluster of islands that span along the Equator in the Pacific Ocean. Home to unique flora, fauna, and animal life, the Galapagos islands will remain forever embedded in your memory. The secluded islands were visited in 1835 by Darwin and bore the inspiration for his theory of evolution. Today the islands are a protected UNESCO Natural World Heritage site and it's obvious why. Home to giant turtles, marine iguanas, comical blue-footed bobbies, hammerheads, sea lions, and innumerable types of colorful exotic fish, Galapagos wildlife is truly remarkable. Take your pick out of 21 different islands, each with a completely different, but equally stunning landscape, and wake up to a new paradise every day. The volcanic archipelago, with an array of red, black, and golden beaches, is the perfect place for exploration for those with an honest love for nature. Most of the remarkable islands are uninhabited, and so a luxury yacht is a way to make the most of your Galapagos experience.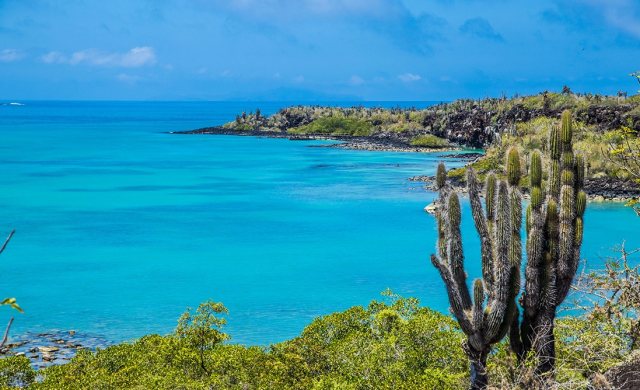 Reasons to visit
The Galapagos Islands are located 1000km off the coastline of continental South America. The island's isolated nature led to the creation of a unique ecosystem. With animal species that cannot be found elsewhere in the world, the Galapagos are sure to amaze you. Charter a luxury yacht and cruise the breathtaking islands, of Santa Cruz, Santiago, Isabella, Genovesa, and Bartolome, to name a few. For the curious at heart, on beautiful Santa Cruz island sits the Charles Darwin Research Station, which offers lectures on ecological conservation. Due to its protected status, there are strict regulations in place that limit the number of boats that
can visit the Galapagos.
Due to its location on the equator, the Galapagos Islands are a year-round destination with temperatures ranging from 21 - 30 degrees. The warm season spans from December to June and the dry season from July to November. Make use of your scuba diving equipment and explore the distinctive marine wildlife at a number of highly acclaimed diving sites. Travel in your own time, from one island to the next. Spot extraordinary wildlife from the board of your yacht. Take a dive in pristine waters, wherever you see fit. A superyacht, no doubt, provides the best means of exploring this phenomenal archipelago.


Local Culture & Cuisine
Galapagos culture is a mixture of people from the highlands, the Amazon Jungle, and the coast of Ecuador, and the local cuisine is a mixture of them all. Seafood, in the form of fish, lobster, crab, and sea cucumber, is the cornerstone of local cuisine. Especially delicious dishes include ceviche (shrimp marinated in lemon and onions) and encebollado (a delicious soup with fish). Ask your onboard chef to prepare you some local dishes and revel in the daily catch.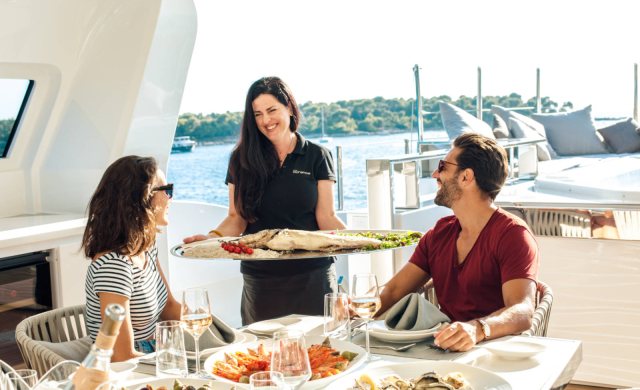 Best Spots for wining and dining
​On the waterfront of alluring Santa Cruz island, just a few steps from your luxury yacht charter sits the Angermeyer Waterfront Inn. The luxury hotel offers a fine dining experience in its ambient restaurant, named La Isla Grill. With romantic views overlooking the sea, the restaurant invites its guests to sit back and enjoy. Ask your captain to book you a table and let the culinary masters take you on a mouth-watering journey to remember. Sample Gus Octopus, Ceviche Midori, Grilled Tuna, Churrasquito or Galapago´s Style Lobster.
Yacht Hunter recommends - Don't miss!
The Galapagos Islands boast some of the best diving spots in the world, due to the megafauna and diverse marine life that inhabit its waters. One of the most iconic places for a dive is Darwin's Arch, also rightfully known as "The Theatre". Darwin's Arch is located on Darwin's Island and is composed of a huge natural rock formation that attracts thousands of species of marine life. Swim with schools of hammerheads, tropical fish, silkies, and blacktips and have a truly unforgettable, bucket-list experience.
Galapagos Islands Private Yacht Charter
Ready for the experience of a lifetime? Сharter a yacht today at yachthunter.com! Please contact us