Croatia is the pearl of the Mediterranean, offering an abundance of hidden treasures dotted around its seemingly endless coastline. This is a country with endless possibilities for a private yacht vacation. Discover hundreds of unspoiled islands, picturesque marinas, historical places, magical cities and attractive beaches. It's no surprise then that Croatia is becoming an increasingly popular location for yacht charters every year.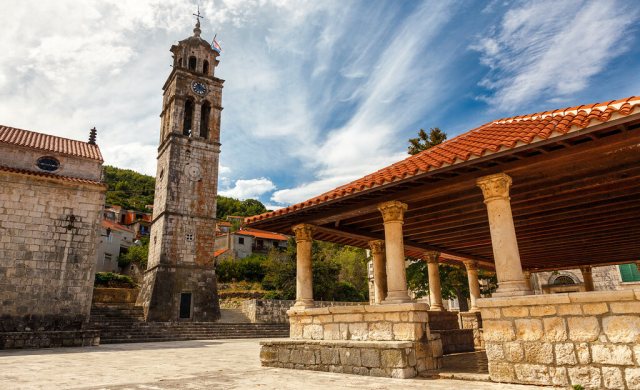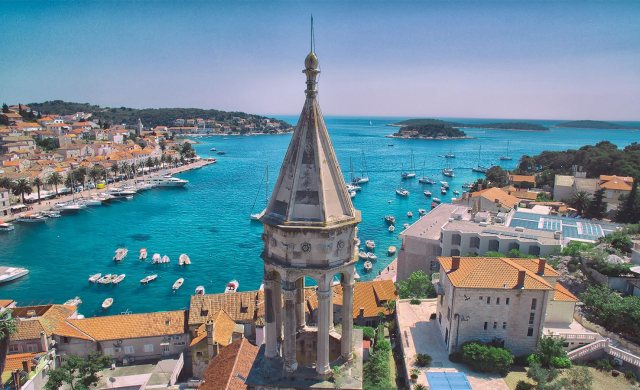 Local Culture
Behind Croatia's sparkling beaches and isolated coves hide romantic medieval cities. The country's history is woven into the tapestry of Ancient Rome and the Ottoman Empire and is a melting pot for enchanting myths and legends. Its culture is displayed in various museums and art galleries.
If history and culture fire up your imagination, then Split is the place to go! The city is located around the palace of Roman Emperor Diocletian, built in the 4th century. The palace's ensemble is over 200 buildings. Today the palace buildings are listed as UNESCO World Heritage sites. Spend a day in this unique place, take in its sights and dine in one of dozens of atmospheric restaurants.
Dubrovnik

Hvar

Korcula

Split

Mljet

Dubrovnik
Dubrovnik can be one of the most impressive stops during a cruise of Croatia. The city is an up-and-coming luxury yacht destination that attracts charterers with its gourmet cuisine, many noisy and authentic bars, and a variety of cultural attractions. It's an extremely picturesque city: its red loamy roofs, crystal-clear turquoise waters and the dark green pines covering the hills framing Dubrovnik are a wondrous sight to see. Dubrovnik is home to various wine bars, informal bistros and high-quality seafood restaurants with something for everyone. Indulge yourself with Peka, a local dish made with octopus and potato.

Hvar
Hvar is famous for its enchanting atmosphere that welcomes even the most discerning travelers with open arms. This city offers the perfect combination of modern glamour and an ornamental architectural style displayed in its magnificent Gothic palaces and marble streets. Hvar is known as the main Croatian city for loud partying which lasts long into the night. But this does not detract from its atmosphere of unshakable elegance. A beautiful day in Hvar could start with a morning cup of coffee in the harbor. Watch as the city slowly comes to life, then take a walk around a food market. Turn into winding side streets to reach the city's outskirts to meet the verdant hills, past olive groves, lavender fields, and ancient stone walls.
Spend your evening enjoying al fresco dining onboard your luxury yacht or in one of a multitude of exquisite restaurants. Evening is the time when Hvar really comes to life. Whether you're watching the setting sun while sipping a cocktail at Hula Hula bar, chatting to celebrities on the roof of the Adriana Hotel, or dancing under the trees on Copacabana Beach, you'll have a great time on this coastline!

Korcula
Korcula, with its lush vineyards and olive groves, is one of the greenest islands in the Adriatic. In addition, the island is considered the birthplace of Marco Polo and is a very interesting place to stop during a charter trip. Just imagine walking in the great explorer's footsteps along the beach! But these days, as you roam the streets of Korcula, you may see movie stars in photo sessions at this popular location.


Split
The pearl of the Dalmatian coast and the second-largest city in Croatia.
When you arrive in Split on board a yacht, you will see a beach oasis: sea-green bays, blooming green hills and palm trees lining waterways.
Take a walk through the streets of this unique city and be inspired by its Venetian architecture with a Croatian element. Some of the ancient monuments were used in the background for Game of Thrones, including the Klis fortress, located a short distance away from the city and its streets, and the basement of the famous Diocletian's Palace was used as the dragons' den. Whether you're a Game of Thrones fan or not, this UNESCO World Heritage-listed building is a must-see.
After an impressive dose of history and culture, it's time to delve into the creative side of Split. The city is replete with prestigious art galleries and boutiques selling bespoke fashion items.

Mljet
One of Croatia's best-kept secrets is the Island of Mljet, a miniature paradise with lush greenery and crystal-clear sea. It's an unspoiled paradise that's very popular among the locals.
Nature lovers should put Mljet at the top of their list. Part of the island was preserved as a national park, and it's not hard to see why! Canoes and kayaks slice through the water, while scuba divers dive down to explore the unique ecosystem on the seabed. Meanwhile on land, bike paths weave through forests, promising unrivaled views of the sparkling sea and access to remote beaches at every turn.
The island is home to an ancient Benedictine Monastery to St Mary. Today, the ancient building offers its visitors calm, cozy terrace and a café where you can sample local red wine and fresh goat's cheese.
Yacht Hunter recommends
It would be a real shame to visit Croatia and not sample its local wines. Local wines are usually fruity, very light and go well with jerked meat, cheese, or fresh seafood. Vis is the farthest populated island from the mainland. It was closed to foreign visitors until 1989. The island has rich vegetation with olive groves and vineyards, and also has its own grape variety — Vugava, which has been cultivated here since ancient times. 
For a unique experience, head to the Pelješac Peninsula on a guided tour of Edivo Vina, the country's first underwater winery. They say, that the silence of the deep sea enhances the quality of the wine, which is aged underwater for several years. There are bottles for sale completely covered in shells.
YACHTS AVAILABLE IN THIS REGION