Thailand is home to powdery soft, white sandy beaches, crystal clear, calm emerald waters, glistening Buddhist temples, and exuberant nightlife. With a myriad of undiscovered, untouched islands, Thailand is one of the best places in the world for a luxury yacht charter. Steer your yacht to renowned Phuket, tropical Koh Samui, or mesmerizing Koh Chang.
Visit this must-see destination from November to April. This is the driest, brightest and warmest part of the year, with temperatures ranging from 28 - 36 degrees. The Andaman sea and the Gulf of Thailand are real gems for those eager to explore marine life by diving and snorkeling. Colorful and fluorescent fish embellish its emerald waters, scattered amongst the vibrant reefs, while graceful manta rays and whale sharks peacefully swim beside you.
Sip on a fresh coconut, while you enjoy the idyllic landscape from your deck. Dive into pristine waters and venture ashore to explore glistening Buddhist temples and gourmet delights.
Reasons to visit
Thailand is an unforgettable tropical paradise, with immaculate waters and idyllic beaches. Thick, green, wild jungles and sweeping palm trees adorn its coasts, and colorful marine wildlife its pristine waters. Marvel at shipwrecks, caverns, deep drop-offs, and thriving reefs.
Step ashore and discover local boutiques and impressive gourmet food, satisfying even the most demanding guests. Nightlife in Thailand
is beautiful, wild, and diverse. Perfect for the hedonistic side of you. Charter a yacht and explore Thailand's many unspoiled and untouched beaches. Discover uninhabited private islands, which can be your very own slice of heaven. Bypass tiring travel and tourist crowds and instead, travel in absolute luxury with all amenities included. Have your every need catered to and have the most rejuvenating holiday of your life.


Local Culture & Cuisine
Thailand is also known as "The land of smiles", as its locals are notoriously kind-hearted. Heavily influenced by Buddhism, one can spot charming temples located throughout its mainland and islands. Thai nationals make up the majority of Thailand's population and their cuisine happens to be one of the most popular in the world. Seasoned with spices, such as lemongrass, turmeric, and coriander, its taste is simply unique. Each region of Thailand has its specialties: Kaeng khiao wan (green curry) in the central region, Som tam (green papaya salad) in the northeast, Khao soi in the north, and Massaman curry in the south. Don't forget to sample Durian, the local exotic fruit. A word of caution: Durian can have a very distinct smell, so you might not want to bring it on board your yacht. Available fresh, dried, as an ice cream, a cake, or a candy – or even better, order a delicious boozy durian shake from your onboard bartender.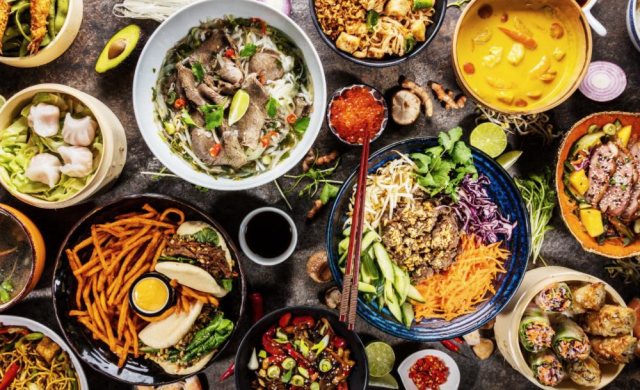 Best spots for wining and dining
Indulge in a fine dining experience at Michelin star PRU, which is a stone thrown away from little-known Tsisara beach, on Phuket island. Ask your captain to book you a table. Cooking with ingredients sourced from their very own garden, the dishes at PRU tell an enigmatic story. Go on an exquisite gastronomic tale, sample river prawn with Indian plum and chorizo, and the local fruit durian, paired artistically with caviar and mulberry. Discover the tasting menu and be taken on a mouth-watering gourmet journey that is sure to impress.
Yacht Hunter Recommends
One of the best places to explore marine wildlife is in the Similan Islands. Arguably one of the most beautiful places in Thailand, the Similan islands boast bright turquoise crystal waters, adjacent to giant, smooth, dark boulders. Take some time to sunbathe on the stunning, exotic beach. Don't miss out on the tropical marine wildlife. To enjoy it, make a stop a little off the coast, where the water is crystal clear and deep enough to explore. Equipped with your snorkeling or diving gear, spot sea turtles, brilliantly vivid reefs, fluorescent fish, manta rays, and huge whale sharks during the warmer months. Cap off the day with refreshing cocktails on the deck.
Charter a yacht in Thailand
Ready for a slice of your own tropical paradise? Сharter a yacht today at yachthunter.com! Please contact us