Step onto enticing Fiji and into the vacation of your dreams. With Hammocks gently swaying in the wind, palm trees lining the idyllic coast, charming huts sitting atop the sapphire waters, and white sandy beaches; a Fiji luxury yacht charter is a dream come true. Dotted with jagged volcanic craters and stunning waterfalls, lush jungles, quaint mountain villages, dazzling temples, and 5-star resorts, Fiji definitely lives up to our expectations. Take a dive into local culture, when you visit the brightly colored Hindu temple, Sri Siva Subramaniya. Kayak on glass-watered lagoons in Viti Levu. Cruise from Port Denarau to stunning Mamanuca. Get pampered at luxurious 5-star spas in Sigatoka. Discover uninhabited Islands and secret coves. Spot fascinating marine wildlife embellishing the vibrant reefs. Unpack only once and enjoy the luxury of your yacht charter as you wake up to a different heart-capturing landscape every day.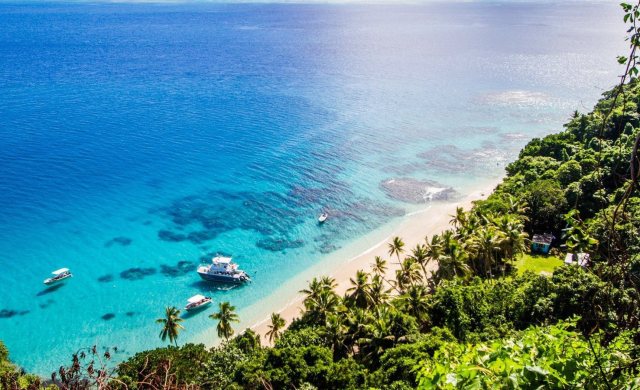 Reasons to visit Fiji
Fiji, a collection of 333 beautiful islets, is nestled in the South Pacific Ocean. Opting for clear blue skies, the best time to visit is between May and September. The locals will welcome you with a warm smile, and the stunning beaches and exotic vistas will capture your heart. Don't forget to get a traditional Bobo massage from a local
therapist, take a fragrant stroll through the botanical gardens of Nadi, or explore the tumbling waterfalls of Taveuni. With stunning private beaches, luxury amenities, and pristine diving sites, where one can spot an array of tropical fish, manta rays, sharks, and dolphins, Fiji is a paradisiacal yacht charter location that is not to be overlooked.

Local Culture and Cuisine
Fijian culture is vibrant and present in the everyday lives of its locals. It's intertwined with Indian, Chinese, European, Tongish, Samoan, and indigenous Fijian cultures. The cuisine is well known for its abundance of seafood, rice, sweet potatoes, taro, coconuts, cassava, and breadfruit. While the most famous dish of Fiji is undoubtedly Kokoda, raw fish with lime juice, coconut cream, tomatoes, and chilies.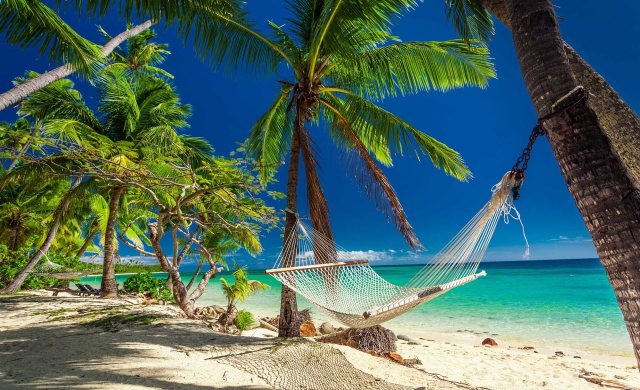 Best places for wining and dining
Moor up at Nadi, and enjoy a fine dining experience at the Fish Bar. Conveniently located on the waterfront, the Fish Bar offers a delicious a la carte menu. Try the torched yellowfin tuna with citrus emulsion, spicy aioli, sesame coconut tuile, pickled cucumber, and radish, or the lamb rack with herb and nut crust, aligot potato puree, minted peas, and port jus. With stunning interior design, a sunset infinity pool, a bar, and breathtaking panoramic views, you might want to go a few hours ahead of your meal to enjoy the surroundings. Ask the crew to book you a table.
Yacht Hunter Recommends - Don't miss out!
Visit the Sabeto Thermal Mud Pool and Hot Springs on the main island of Viti Levu for an authentic Fijian experience. The springs consist of three warm pools that are heated by an underground volcanic source. Submerge yourself in warm mud, then dry off in the sun and finally, wash off in one of the geothermal, therapeutic pools. A Fijian pampering experience not to be missed.
Luxury Yacht Charter in Fiji
Don't miss out on unforgettable memories and stunning landscapes. A luxury yacht opens doors to the best of Fiji. Book a yacht with Yacht Hunter - contact us!