With over 50,000 km of coastline with numerous marinas and world-class ports, yacht charter is without a doubt the best way to experience all that this amazing country has to offer!

On the uninhabited northwest coast of Australia lies the unspoiled Ningaloo Reef, one of the best places in the world to see whale sharks. You can go to the wild western coast to see the vestiges of shipwrecks and rare species of marine life. Southern Australia is famous for its cultural variety, its vineyards, fine wines, art and world class restaurants. Here, you can hit the beach right from a vineyard, then walk through an ancient wood and return to the city to dine in one of its restaurants.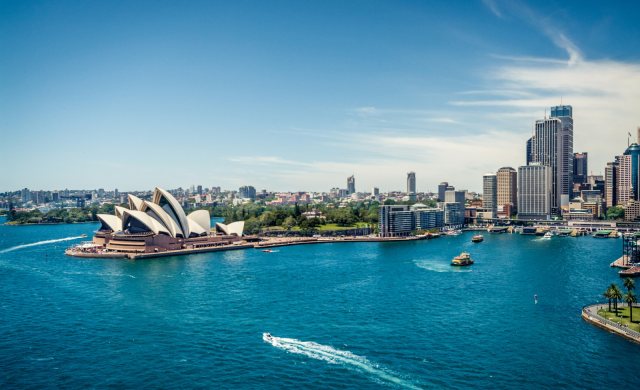 Sydney

Great Barrier Reef
Sydney
Sydney's fantastic natural harbor is the front entrance for private yachts. Immerse yourself in the city's stunning dynamics, from the Sydney Opera House to its bustling bars and chic boutiques. Sydney's fireworks are without equal. Travel to this city at the end of the world in December to watch the harbor light up with a myriad of flowers from the comfort of your superyacht with your loved ones — let this New Year's Eve remain in your memory for a lifetime!

Great Barrier Reef
It's only on the Great Barrier Reef that you'll find thousands of coral reefs and a multitude of anchorages: more than 900 islands offer an endless choice of beaches. Don't miss the chance to sail along the mainland and anchor at the beautiful Whiteheaven beach with its powder-soft white sand and extraordinary light blue waters.