The United Arab Emirates is formed of Dubai, Abu Dhabi, Ajman, Fujairah, Ras al Khaimah, Sharjah, and Umm al Quwain. Dubai is a perfect winter destination, as that's when the weather is cooler and less humid. If you're looking for an upscale, exclusive experience, then Dubai is for you. Like an oasis in the desert, with waterways carved throughout, you will marvel at the unique sight of man-made islands, alongside breathtaking skyscrapers. Rich in culture, with a wide selection of spas and 5-star resorts, as well as infinite fine dining options, you will luxuriate in futuristic Dubai. At the same time, you may discover world-famous events, such as the Dubai World Cup, the Abu Dhabi Grand, and the International Dubai Boat Show. Visit blue-flagged Jumeirah Beach and Al Mamzar to work on your tan. Go to Atlantis Aquaventure Waterpark for some family fun. Catch the spectacular show at The Dubai Fountain at sunset. Enjoy the nightlife which booms in luxury hotels. Get lost in the fragrant spice souk, and watch silent dhow abras weave along the iconic waterways.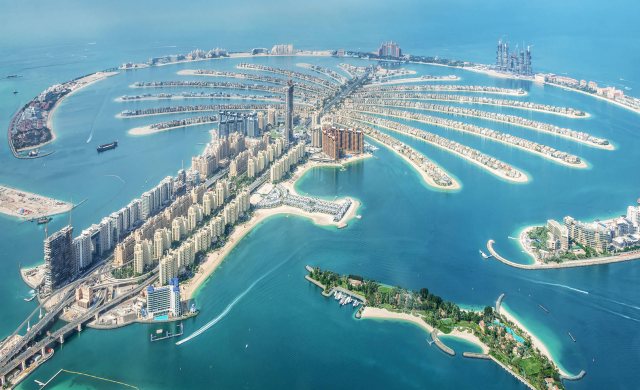 Reasons to visit
Home to the world's tallest building and awe-inspiring architecture, the futuristic city of Dubai welcomes guests with open arms. Hop aboard your luxury yacht and explore this attractive global destination. Sail on utopian waters and visit sublime man-made islands. "The World", resembles a giant globe from outer space,
"Jebel Ali Palm," a palm tree bigger than Manhattan, and "Palm Jumeirah" a smaller one. Pause at the sight of iconic landmarks, and revel in exclusive experiences. From boutique shopping to fine dining and camel rides down the beach, Dubai is a cosmopolitan destination that will satisfy even the most demanding guests.


Local Culture and Cuisine
Dubai's rich culture and tradition are a memorable experience for all visiting guests. Arabic and Islam cultures have permeated the country's architecture, music, fashion, cuisine, and lifestyle. This is a very religious population, being called to prayer five times a day. For a cultural experience, enjoy the colorful festivities of Ramadan in the Heritage Village, hear touching poetry recitals, and be taken aback by the fascinating dances of Liwa and Ayyalah. On a culinary note, Dubai is steeped in rich spices that awaken the senses. For an authentic experience, visit a Shisha shop, or even better, request one onboard. Delight in a puff of apple, strawberry, or refreshing mint.
Best places for wining and dining
A stone's throw away from the waterfront sits the renowned restaurant Indigo by Vineet. Take a seat in a carefully curated space, as you sample a gastronomic tale that will tickle the senses. Led by Michelin-starred Chef Vineet Bhatia, Indego by Vineet offers creative Indian cuisine. Try scrumptious truffle mushroom puchka with tomato dust, mushroom momo, and truffle shavings, and resplendent lobster tikka masala, with charcoal topi dosa and onion chutney. Ask your crew to book you a table.
Yacht Hunter recommends - Don't miss out!
For boating aficionados, the International Dubai Boat Show is heaven on earth. Take a seat and enjoy an endless parade of luxury yachts, while you take repose on your luxurious lounge onboard. After the show, revel in the view from atop the Burj Khalifa, the tallest building in the world.
Luxury Yacht Charter in Dubai
Don't miss out on unforgettable memories! A luxury yacht opens doors to the best of Dubai. Book a yacht with Yacht Hunter - contact us!
YACHTS AVAILABLE IN THIS REGION